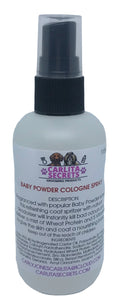 Description
Fragranced with the popular Baby Powder scent this refreshing coat spritzer with natural deodoriser will instantly kill bad odours and deliver a mist of Wheat Protein and 5 Vitamins to give the skin and coat a nourishing boost. 
_______________________________ 
Product Features
Natural content  calculated to ISO 16128 = 95%
Natural deodorising ingredient
Baby powder fragrance
Colour free
Free from animal derived ingredients 
Vitamin E to help protect the skin and coat from environmental stressors
Vitamin C to support skin health
Vitamin B6 is essential for activating cells to give healthy skin
Vitamin B3 is a energiser skin cells and promoting healthy coat growth
Pro Vitamin B5 improves coat health and gives a natural shine 
Hydrolysed Wheat Protein helps repair coat damage and retain moisture 
_______________________________
Directions
Spray and mist over either a wet coat after shampooing or a dry coat and leave to dry naturally. Use as required to neutralise odours and refresh the coat.