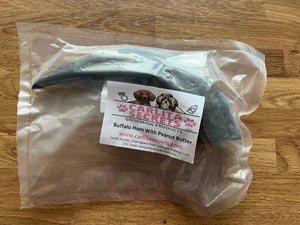 Natural Buffalo Horns
Our Buffalo Dog Treats are focused on creating a range of dog treats that allows owners to make healthy - not indulgent - choices for their pets.

Our Natural Buffalo Dog Treats are sourced in the UK from 100% Buffalo. They are a leaner and healthier alternative to pork or beef. They're a long lasting knaw that's great for dogs that love to chew.
100% Natural complementary treat - purely a Buffalo Horn - no additives or preservatives.
Suitable for all medium / large sized breeds of dog over 3 months of age. 
Composition: 100% Buffalo Horn Filled with Peanut Butter
Nutritional Analysis: Crude Protein: 88.4%, Crude Oils / Fats: 0.29%, Moisture: 9.72%, Crude Ash: 9.94%, Fibre: 2.36%
Storage: Please keep in a dry and cool place away from any direct sunlight / heat sources.
Feeding Guide: Complementary feeds for dogs. Suitable for dogs from 12+ weeks. Not suitable for human consumption.
Please ensure your dog has plenty of fresh water daily. Supervision on all natural treats advised. 
Just so you know although much care is taken when producing natural treats, some small bone particles may appear in some treats which are safe for your dog to consume.