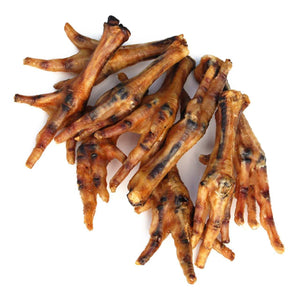 A delicious treat for small and large dogs alike. Chicken Feet are easily digestible and gently dehydrated to give them a satisfying crunch. They are naturally high in protein and chondroitin which helps with joint pain and mobility. This natural snack is also a great way to keep the dog amused while strengthening its jaw muscles and cleaning its teeth.
Ingredients: This product is made of 100% Chicken, without the addition of grain, chemicals, preservatives or other extenders.
Nutritional content (subjected to natural fluctuations): raw protein 65.4%, raw fat 18.5%, raw ash 3.5%.