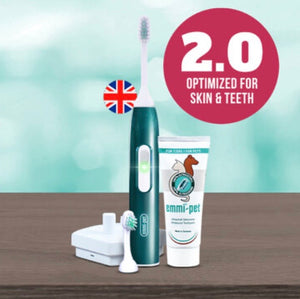 emmi®-pet Basic Set 2.0

The effective teeth cleaning and mouth hygiene for your animal

These are the new features of the emmi®-pet Basis-Set 2.0!

Secure the 2nd Generation of the emmi®-pet ultrasonic toothbrush for your pet now!
Thanks to an improvement in the ultrasonic frequency, the emmi®-pet 2nd generation ultrasonic toothbrush has a much better effect on the skin and teeth.
This leads to an even better cleaning result than with the predecessor from the 1st generation.
But what does the "improvement of ultrasonic clocking" mean?

The ultrasound is transported to the area to be treated (skin/skin or teeth) by the clocking rate. By increasing the clocking rate, the ultrasound is therefore transported more evenly to the affected area. Conversely, this leads to an improved cleaning result and makes the upgrade to the emmi®-pet Basis Set 2.0 so effective.

The emmi®-pet Basic Set 2.0
is suitable for all pet owners for whom the health and care of their four-legged friend is a personal concern. This set contains everything you need for the painless, gentle and thorough removal of plaque and bacteria from your pet.
The set includes the
emmi®-pet
2nd generation ultrasonic toothbrush, a charging station, two
emmi®-pet
ultrasonic attachments (1 x large /1 x small) and the
emmi®-pet
ultrasonic toothpaste for animals.
With regular use, the animal quickly gets used to the Ultrasonic Toothbrush 2.0. To prevent tartar, gum inflammation and secondary diseases, we recommend regular use of the
emmi®-pet
Toothbrush 2.0. This also gives the animal noticeably fresher breath.
The
emmi®-pet
ultrasonic toothbrush has been certified as an animal welfare-friendly product by the Fachstelle für tiergerechte Tierhaltung und Tierschutz (FTT) in Austria.
emmi®-pet
– patented ultrasonic technology.
Note: The attachments should only be cleaned with water!
 emmi-pet 2.0: starter set includes 
1x emmi®-pet Hand-Piece 2.0
1x emmi®-pet 100-240 V Charging Station
1x emmi®-pet A1/A2 Ultrasonic Attachments (1 big / 1 small)
1x emmi®-pet ZA Ultrasonic Toothpaste for Pets - 75ml
extras include 
2paste
2 large heads
2 small heads
2 packs rosewood sticks