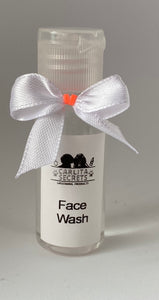 can be personalised with your logo 
Description
Dirt and grime can build up around the mouth area from eating and saliva discharge which over time can form discolouration and staining especially visible on light and white coloured coats. This product contains conditioning wheat proteins and naturally derived gentle cleansers  to remove dirt and grime and gradually remove staining to maintain a stain free appearance.
 _______________________________
Product Features
Natural content calculated to ISO 16128 = 99% 
Fragrance free 
No added colours 
Free from animal derived ingredients 
Naturally derived cleansing ingredients
Coat conditioning Wheat Proteins 
_______________________________
Directions
Apply the gentle face wash to your wet hands and work into a lather and massage into the coat around the mouth. Towel dry and allow to dry naturally. Use as required to maintain hygiene and appearance.