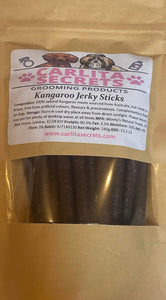 Jerky Sticks
These come in a bag with of approx. 20 Natural  Jerky Rolls. 
These are quite soft so can be broken up into smaller pieces or why not grab a bag of our chicken & kangaroo bites which are great for training rewards. 
Free from artificial colours and preservatives. 
Wheat, Soya, Dairy, Gluten and Grain free. 
Low in Fat. High in protein.
100% Natural Meats Used.