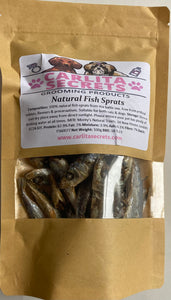 Whole Fish Sprats 
Dogs love dried fish snacks - the delicious smell and its "crunchy" bite. You can feed the fish treats as a special treat or use to train commands. Whether daily or only on special occasions - your dog will literally eat you out of hand.

Why not add some of our tasty Baltic fish sprats to your dogs raw diet? Sprats are packed with healthy omega 3 oils which help promote a healthy digestive system while maintaining a glossy shine to your dogs coat.
The baltic sprats will simply love your dogs. The smell and the feel of the fish skin including head (about 5-10 cm long), which were gently air-dried with little heat, is immensely different from conventional snacks.
Rich in omega 3 and low in fat, these training treats ensure a balanced and healthy feeding from the hand. The high protein content completely covers the protein requirement of your dog. So the ideal snack for extensive training sessions. 
.