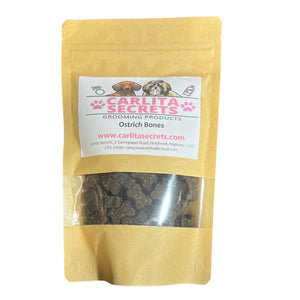 Our Ostrich Bones Bites 
Our natural ostrich bites are the perfect reward for between meals. Thanks to their semi-moist consistency these little treats retain an exceptionally meaty flavour, and their recipe makes them a deliciously light treat for every dog. The bites contains no grains and are gluten-free, 100% Ostrich meat used perfect for dogs with food sensitives, intolerances or allergies. 
Whether at home or out and about,our  Soft Ostrich Bites are ideal as a reward for good behaviour. Letting your dog know when it's doing something right is an essential part of training. Each treat is approx. 2cm in size, perfect as a little encouraging treat that won't distract your dog from the task at hand. An effective, delicious snack that your dog will love!
Healthy Benefits:
Easily digestible & perfect for sensitive tummies
Low fat content that supports weight loss.
Hypoallergenic 
Suitable for puppies, adults & senior dogs of all breeds. 
Our gentle manufacturing process helps retain vital nutrients & flavour from raw materials. 
Grain, Gluten, Dairy & Wheat Free. 
Great for bedtime treats & training rewards
160g re-sealable pouch.
OSTRICH BONES
compostion: 85% Ostrich, oils & fats. A complimentary feed for dogs and sourced in the UK Storage: Please keep in a dry and cool place away from diret sunlight. Feeding Guide: Suitable for dogs from 8 weeks. Not suitable for human consumption. Supervision on all natural treats advised. Need to contact Us? Please see front of this packet for all contact information. Nutritional Analysis: Crude Protein: 48.8%, Crude Oil & Fats: 9.6%, Moisture: 21% Crude Ash: 8.4% Fibre: 1.6%
Expiry Date: 01.07.2024 BNR.:SB236010 Net Weight: 160g
please ensure your pet has plently of fresh water daily.