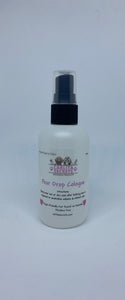 Description Fragranced with a classic and recognisable Pear Drops scent this coat spritzer with natural deodoriser will instantly kill bad odours and deliver a mist of Wheat Protein and 5 Vitamins to give the skin and coat a nourishing boost.
Features Natural content  calculated to ISO 16128 = 94%, Natural deodorising ingredient, Classic Pear Drop fragrance, No added colours, Free from animal derived ingredients, Vitamin E to help protect the skin and coat from environmental stressors, Vitamin C to support skin health, Vitamin B6 is essential for activating cells to give healthy skin, Vitamin B3 is a energiser skin cells and promoting healthy coat growth, Pro Vitamin B5 improves coat health and gives a natural shine, Hydrolysed Wheat Protein helps repair coat damage and retain moisture.
Directions Spray and mist over either a wet coat after shampooing or a dry coat and leave to dry naturally. Use as required to neutralise odours and refresh the coat.
Ingredients Aqua, PEG 40 Hydrogenated Castor Oil, Polysorbate 20, Parfum, Niacinamide, Calcium Pantothenate, Sodium Ascorbyl Phosphate, Tocopheryl Acetate, Hydrolyzed Wheat Protein, Pyridoxine HCl, Saccharomyces Ferment, Zinc Ricinoleate,, Maltodextrin, Sodium Starch Octenylsuccinate, Silica, Benzyl Hemiformal, Benzyl Alcohol, Benzyl Benzoate, Benzyl Salicylate, Citronellol, Eugenol, Limonene, Geraniol, Linalool.