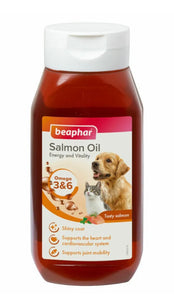 Beaphar Salmon Oil is a delicious natural supplement for cats and dogs, derived from sustainable fisheries. It is naturally rich in Omega 3 and 6, which provides a good source of essential fatty acids, including EPA and DHA.
Health benefits include helping to aid mobility in cats and dogs, supporting the heart and cardiovascular system, and helping to maintain a shiny coat.
Beaphar Salmon Oil provides an excellent source of energy for outdoor cats and active dogs. It helps to promote vitality, and can be used to help increase the palatability of food.
Recommended daily use: Cats and small dogs: 7.5 ml, Medium dogs: 10 ml, Large dogs: 15 ml. Shake the bottle before use. Pour the required amount over your pet's normal food. Under normal use, Beaphar Salmon Oil will not cause weight gain. Always keep fresh drinking water available.
Feed material for cats and dogs.
Composition: Salmon Oil (Omega 6: 15.7%, Omega 3:
16.5%, of which EPA 3.3% and DHA 4.1%).
Analytical constituents: Crude oils and fats 99%, Antioxidants.
Nutritional value: 9400 Kcal/kg.
Storage instructions: Store in a closed, cool, dry place and protected from light. Keep in the original packaging.
Do not refrigerate or freeze. Keep out of reach of children.