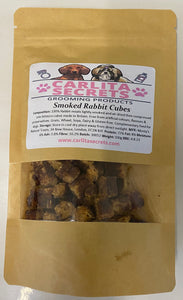 Smoky Rabbit Cubes

Made within the UK and sourced from British farms.  Our cubes are made using 100% rabbit meat which is naturally air-dried, smoked and compressed into moulds then conveniently cut into small cubes for you to give as a training reward or to fill a treat ball or toys. 100g Great for filling pockets for long walks as these do not crumble.  

Composition: 100% Rabbit Meats
Nutritional Information: Protein: 72% Fat: 8% Moisture: 6% Ash: 3.8% Fibre: 10.2%
Free from: Gluten, Dairy, soya, Sugars, Egg, Wheat & Grains, Our treats are also free from additives, preservatives and artificial colours & flavours. Although our treats do look tasty and are made using human grade meats, these are not for human consumption.