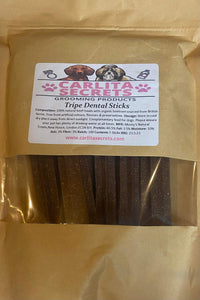 Our Natural Dental Sticks 
Our Tripe dental sticks are made from 100% natural beef tripe meats with organic beetroot that are perfect for medium - large breeds. 
Our Natural Tripe Dental sticks are designed into a ribbed shape and have a special abrasive texture. With daily feeding, they're clinically proven to help reduce tartar build-up by up to 85%. Each Tripe Dental Stick contains two ingredients Beef & Beetroot for a vitamin C boost which can work wonders on dogs immune system. When your dog chews our dental sticks this makes the plaque stay softer for longer making it easier to remove by chewing Our Tripe Dental Sticks.
Feeding Guide:
A complementary treat for dogs Suitable for dog's over 12 weeks of age. Always ensure fresh drinking water is readily available with your dog treats, chews or food.  
Ingredients: 
100% Beef Meat 
Nutritional Analysis: Protein 80.5% Fat 3.5% Moisture 10% Ash 3% Fibre 3%
Free from artificial colours and preservatives. Wheat, Soya, Dairy, Gluten and Grain free. Low in Fat. High in protein. 100% Natural Meats Used.