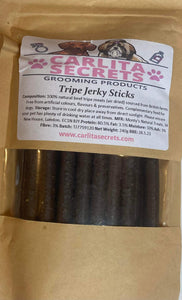 Natural Tripe Jerky Sticks
These come in a bag with of approx. 20 Natural Tripe Jerky Rolls. These are quite soft so can be broken up into smaller pieces too. 
Free from artificial colours and preservatives. 
Wheat, Soya, Dairy, Gluten and Grain free. 
Low in Fat. High in protein.
100% Natural Meats Used.