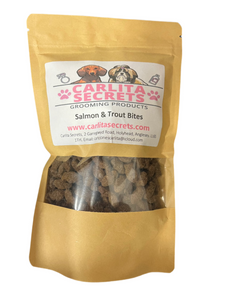 Salmon & Trout fishy Bites
Our Salmon & Trout training bites are fish shaped treats are perfect for training both puppies and dogs.
Highly digestible in omega 3 & 6. Free from artificial additives & preservatives, gluten, grain, dairy, sugar, egg & wheat free. Hypoallergenic and come in bags of 200g which can be resealed & recycled.  
Composition: 42% Salmon, 28% whitefish, 10% Trout, Sweet Potato
Nutritional Analysis: Crude Protein: 32%, Crude Oils / Fats: 12%, Moisture: 8%, Crude Ash: 9.5%, Fibre: 1.5%
Storage: Please keep in a dry and cool place away from any direct sunlight / heat sources.
Feeding Guide: Complementary feeds for dogs. Suitable for dogs from 8+ weeks. Not suitable for human consumption.
Please ensure your dog has plenty of fresh water daily. Supervision on all natural treats advised. 
Just so you know although much care is taken when producing natural treats, some small bone particles may appear in some treats which are safe for your dog to consume.