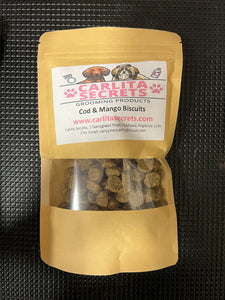 Natural Cod & Mango BiscuitS
Our natural biscuits are perfect for all occasions, we use these as a bedtime snack for Monty. Our new biscuits are made from 100% natural & human grade Cod & Mango which are combined with sweet potato and supplemented with salmon oil to support joint & bone health as well as boosting your dog's metabolism. 100g per bag. 
Healthy Benefits:
Easily digestible & perfect for sensitive tummies
Low fat content that supports weight loss.
Hypoallergenic 
Natural salmon oil helps with immune system, heart, skin & coat health. Salmon oil also reduces itchiness. 
Organic Mango to help improve digestive system and vision health. 
Suitable for puppies, adults & senior dogs of all breeds. 
Our gentle manufacturing process helps retain vital nutrients & flavour 
Grain, Gluten, Dairy & Wheat Free. 
Free from additives, preservatives & artificial colours & flavours.
Cold pressed for a delicious taste & crunchy and soft biscuit. 
Great for bedtime treats & training rewards
100g re-sealable pouch.
Composition:
82% Cod, 6% Mango, 8% Sweet Potato, 2% Salmon Oil. 
Nutritional Information:  
Protein: 86.5% Fat:5.3% Moisture: 2.7% Fibre: 10%.
Storage: Please store in a dry and cool placE