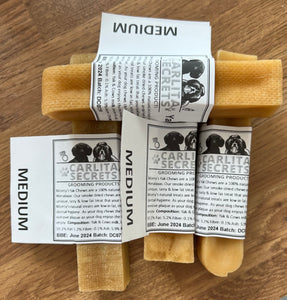 Natural YAK Chew Bars
There's no denying that dogs love chewing. It's a part of their instinctive behavior and also important for the healthy functioning of their physiology. Sitting at home all day while you're at work or busy doing chores can get your pooch really bored and lonely, leading to destructive behavior like biting furniture, scratching linen, and barking relentlessly.While traditional bones and chew toys work fine, they come with choking hazards, can cause splinters, are loaded with chemicals, and damage your poor little pooch's teeth.  The solution? Monty's Himalayan Yak Dog Chews!

Monty's Yak Chews are a 100% natural, low fat hard cheese chew that originates in the Himalayas. Our smoke dried chews are made from skimmed Yak & cow milk to give a truly unique, tasty & low fat treat that your dog will love. With no added chemicals or preservatives Monty's natural treats are low in fat, rich in calcium & protein and also helps with your dogs dental hygiene. As your dog chews the hard cheese, it gradually softens the cheese helping to remove plaque as your dog enjoys the chew, leaving a softer chewy cheese treat for the to enjoy. 


Feeding Guide: 
Please supervise whilst feeding any of Monty's natural treats & ensure that fresh drinking water is provided at all times. The chew will soften as your pooch chews it, so the chew will last as long as your dog wants its to. The more your dog enjoys it the faster it will soften and be eaten. When your dog has nearly finished Monty's Yak chew and there is only a small piece left, you can put the chew in the microwave for 30 seconds, watch it puff up into a crunchy, cheesy treat they will adore when it's cooled. 

Composition:
Yak & Cows milk, Lime juice & salt. 

Analytical constituents:
Protein: 59.2% Fat: 5.2% Fibre: 0.1% Ash: 5.9% Moisture: 13%

Not for human consumption, unless you really want to try them at your own risk.